A LITTLE ABOUT US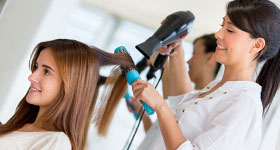 We help you cultivate your natural talents so that you develop into a skilled and creative stylist that will be in demand from salons, studios, or any other facilities that want talented stylists.
THE TRAINING PROGRAMS WE OFFER
CAMPUS LOCATIONS
La Quinta Campus - Main Campus
79450 Highway 111
La Quinta, CA 92253
Tel: (760) 772-5950
Fax: (760) 772-1295
Hemet Campus- Branch Location
3643 W. Florida Ave.
Hemet, CA 92545
Tel: (951) 769-0675
Fax: (951) 769-0803
cvbeautycollege@aol.com
Coachella Valley Beauty College, Inc. is temporarily closed due to COVID-19 until further notice. Stay healthy and we'll see you soon!